"A rapid plugging tool with pressure at the root of the pipeline and explosion-proof" invented and created by the fire brigade of Taian Company obtained the utility model patent certificate
---
In November 2021, when the fire brigade of Taian Company participated in the "Second Hazardous Chemical Rescue Technology Competition in Shandong Province", there was a competition content of "Hazardous Chemical Process Pipeline Plugging under Pressure": the φ700mm tank was perpendicular to the DN80 pipeline. There is a 10mm crack leak in the welding part of the connection part, and the pipeline pressure is as high as 0.5MPa. When the competition requires the plugging operation under pressure: the plugging tool is self-provided, and the plugging method is not limited.
The root plugging tool purchased on the market adopts hydraulic tensioning technology. Although it can meet the requirements of plugging under pressure, it is limited by the diameter of the tank and the particularity of the position of the welding seam. The operation is complicated and requires the cooperation of many people. The plugging process takes more than 10 minutes to complete. Such a long plugging time can only be at the bottom of the arena where every minute counts. In actual combat, it will also expand the risk of accidents and cause more serious consequences.
Feng Yongping, the safety director of Tai'an Company, required that we must dare to think and act, break the routine, and develop a fast, efficient, easy-to-operate, safe and practical leakage plugging tool.
Shan Guangfu, director of the safety management department, and Xu Yueqiang, deputy director, gave technical support. The fire brigade captain Chen Zhaozhen, team leaders Li Chao and Xu Xingkai considered the construction of the tool from the perspective of practical operation experience. After more than half a month of research, improvement and testing, a set of quick plugging tools was finally formed. Wei Xuxiang, manager of the QHSE management department, put forward further suggestions for improving the explosion-proof performance of the leakage plugging tools, so as to make the safety performance of the leakage plugging tools more perfect. So far, this kind of pressure-proof, explosion-proof quick plugging tool at the root of the pipeline has been officially formed.
The fire brigade of Tai'an Company said that it will take this opportunity to obtain a national patent for invention, work hard, do not slack, carry forward the style of "especially able to endure hardship, especially able to fight, and especially able to contribute", strengthen business learning, and practice emergency skills hard , escort the company's safe production, and contribute to local fire rescue!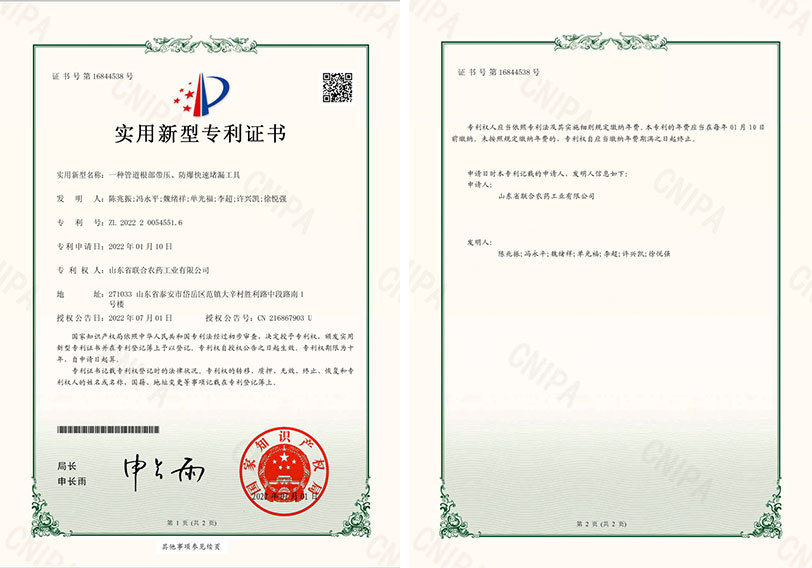 ---

The main products are pesticides, intermediates and pesticides, fungicides and herbicides such as imidacloprid, acetamiprid, (E)-nitenpyram and pyridaben.
Contact Information
14th Floor, Block A, Golden Times Square, No. 9999, Jingshi Road, Jinan Area of China (Shandong) Pilot Free Trade Zone.
---